from:
http://theeouternet.blogspot.com/
Since September of 2006
HEAD MOLT
have been scumming up basement parties and mom's kitchens with drum trigger throb and effects-pedal wizardry. Their visits to Richmond were always an anticipated, fun, and sweaty time for all in attendance. In February HEAD MOLT relocated to Richmond, VA and are going strong! In recent weeks I conducted this interview via various e-mails and text messages with core members GARY STEVENS and LEAH PEAH:
Jason- So, who the fuck is HEAD MOLT, who do you think you are?
Leah Peah-I dunno, some attention craving scum fucking shits from the toilets of Hampton VA that some how got plunged to RVA! Who do you think you are?
Jason- I think I'm just some hack, amateur, music journalist...so, can you tell us what equipment you use to make your sounds or is that TOP SECRET?
Gary Stevens- It's no secret, I'm a pedal jockey. I have a pile of guitar pedals, build contact mics, and do some circuit bending. I like to keep it low-tech. Fucking up tapes is cool too. Lately I've been using more feedback loops, raw signals that are fun to manipulate. I'm into that.
Jason- What are your most current releases? Who released them? Why do they release them for you?
Leah- We have a C-10 tape thats in production from
Heavy Psych
. Not out yet, but fairly soon here.
Our newest release is a split 7inch with Lazy Magnet on
Flish records.
A c-60 out on "recycled" cassette from
Obelisk Sounds.
Why do they put them out? I dont know...Maybe they're tone deaf or suicidal or both. I heard tone deaf suicidal people do crazy things. None the less, each label who has put our stuff out has been nothing but amazing, as well as the finished product.
Jason- So what's new w/ your solo stuff
LEAH PEAH
? I hear your a Deftones fan, is this true?
Leah- I'm currently recording stuff for a new split tape with
The Suicide Magnets
of Philly, Thats going to be put out on
AEN (Anti Everything Noise)
. Also finished up a track for an all new female comp that is called "Ladyz in Noyz: An Addendum" on
Corpus Callosum
which is the sequal to Ladyz in Noyz released on
Spleen Coffin
in 2008. Both of which come from the creative dwelling of Marlo Eggplant's veggie grated mind!
Deftones?! I got a piss boner for all this talk of Deftones!!!!
Jason- What's up with your face on your facebook profile?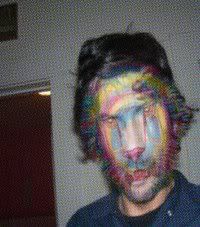 Gary- i hate saying "facebook" i just don't like the sound of it. That's what I look like when the earth's magnetic field is peaking.
Jason- "Facebook!!!" there I said it, SAY IT!!!!!!!! OK, enough of that...so what are your touring plans for 2009?
Gary- We want to go up and down the coast a couple of times. Maybe hit a few spots in the midwest.
Jason- Do you guys collaborate w/ anyone? (Recording or performances) Any future collaborations you'd like to mention?
Leah- We've collaborated with a few, both for recording and live.
Recorded collaborations includes: spoken word performer
Bryan Lewis Saunders aka Mr. Brain Sander
. The piece we worked on together is called "Craigslist" and was released on AEN.
It's an awesome tape that focuses on the "sassy-n-sensual" side of Craigslist and just when you thought you we're at your repulsed and disgusted limits with the intensely written lyrics, it continues to downgrade your brain into some real raw filth.
We did a collaboration with
FUN
from Philly called "Lazy Saturday" that was recorded at the old
Z Radio
house. We were happily force fed bong hits and randomly handed Casios and keyboards of all varieties. As we moved throughout the house during the recording session, umbrellas, pedals, stomping and whatever one would constitute as noise ended up finding its way onto the recording.
Breathmint
gave birth to this collaborative session by releasing it as two CD-R's HeadFUN/FUNHead.
Live show collaborations include:
Jonathon Coward (
SHAMS
) Vocals and tape noise.
Brian Morsberger (
Drums Like Machine Guns
) Vocals.
Ed Wilcox (
Temple of Bon Matin
) Drums.
Zack Kouns
Saxophone.
Jason- Are there any themes or social commentary involved with the sound of HEAD MOLT?
Gary- No, we don't really express any social commentary with Head Molt. Our sound comes from our own frustrations with everyday life. I wouldn't say we are apathetic but we don't feel that our music is the best vehicle for our personal ideologies. It's more of a vibration thing, our way of expelling our own negative feelings onto others. I guess I would say that the general darkness of the human condition is the true theme here...abandonned strip malls converted into prison camps or photos of car crashes?
Jason- So you guys moved to Richmond into the Church Of The Crystal Light, for our readers who aren't familiar with this spot could you give a brief history and mention a little about the current state of things there?
Leah- The Church of Crystal Light was a place with a lot of potential but with the city's current stance on places like Church, there was really no way for it to survive and when it comes to extremely DIY situations like Church its better to leave it a complete whimsical mystery.
Jason- Well said. How do you guys like living in RVA? Any funny or horror stories worth sharing?
Gary- Richmond and it's people have been good to us. It's way better than the shit hole Hampton we've been living in for years before. We feel slightly less isolated now, playing more shows too. We definitley plan to stay here for a while longer. So far the only horrific thing that has happened was when the city shut down the art space we were living in for 4 months (Church of Crystal Light). We're somewhat homeless now but things are starting to look better for us. We're thankful for the great friends we have here who are helping us out.
Jason- So I remember that you guys opened for
GIRL TALK
at the NorVA some months back, I also remember seeing tons of feedback from folks on the internet...both positive and negative. How was this experience and how did you get on this show?
Gary- I've known Greg since the first time I booked Girl Talk at my old place (The Rat-Ward in Hampton). That was back in 2001. A buddy of mine instant messaged me about the Norva show and jokingly suggested we get on the bill. So I emailed Greg not expecting anything and he quickly responded and was into the idea. He had his booking agent contact us and that what that.
Leah- I didnt really know what to do with myself, I don't think any of us did. So we drank A LOT like we would at any other show. We had a talent assistant, we got free rum and beer and all that other cliche stuff that comes with playing places like the NORVA. It was interesting to hear a mixture of boos, and cries of confusion, with people chanting along with the "lyrics" but in all honesty I was more into the sensation of how loud we actually were. That alone makes me want to play bigger shows again and again.
Gary- Over a thousand people were angered by our performance. It was the best "fuck off" to the Hampton Roads area I could ever think of. I'm not sure if we can ever top that.
Leah- The reviews of our set for that show are hilarious. The reviewers themselves made it obviously clear a mass majority of people still suffer the typical mentality of; "I cant like it til someone tells me it's ok to". Which is exactly what Girl Talk did during the middle of his set. It was weird to have people come up and talk with us after the show. People wanting to take pictures with us and asking questions, but for every one picture we took, we had 3 dirty looks following it up. I guess these are the trials and tribulations a band must face when venturing over to the "other side" of acceptable mainstream music, especially coming from where we do.
Gary- no matter how many times people are told it's OK to like us, they probably won't. I'm OK with that.
Jason- What does the name Head Molt mean?
Gary- It was really just two random words put together. After I did a web search for the phrase I learned it's a common occurrence in the animal world, to cast off an outer covering periodically. Which kinda makes sense considering Head Molt was a sort of musical rebirth for myself.
Jason- OK final questions, what does the future hold for Head Molt? Where do you want to see this thing going? What's your favorite beverage?
Gary- The future is a nightmare world for future punks, hard core pirate punks, apocalyptic poets and Mad Max types.
Working on more tapes, some new vinyl splits, hopefully a new home. Don't really care where this mess takes us, into the gray hairs, into complete obscurity. Where ever we end up I will always enjoy cheap whiskey.
Leah- I don't know where it's going to go, and I don't know what the future holds, I'm just going to keep doing it and whatever happens, happens.
I like Malibu and Coke, Baileys on the rocks, and Buttery Nipples.
Jason- I should know because that's what you guys order when you come to the bar I work at...Thanks for doing this, Ciao babies!!!!!